Downtown Marshall building to be transformed into educational center
Thursday, November 11, 2021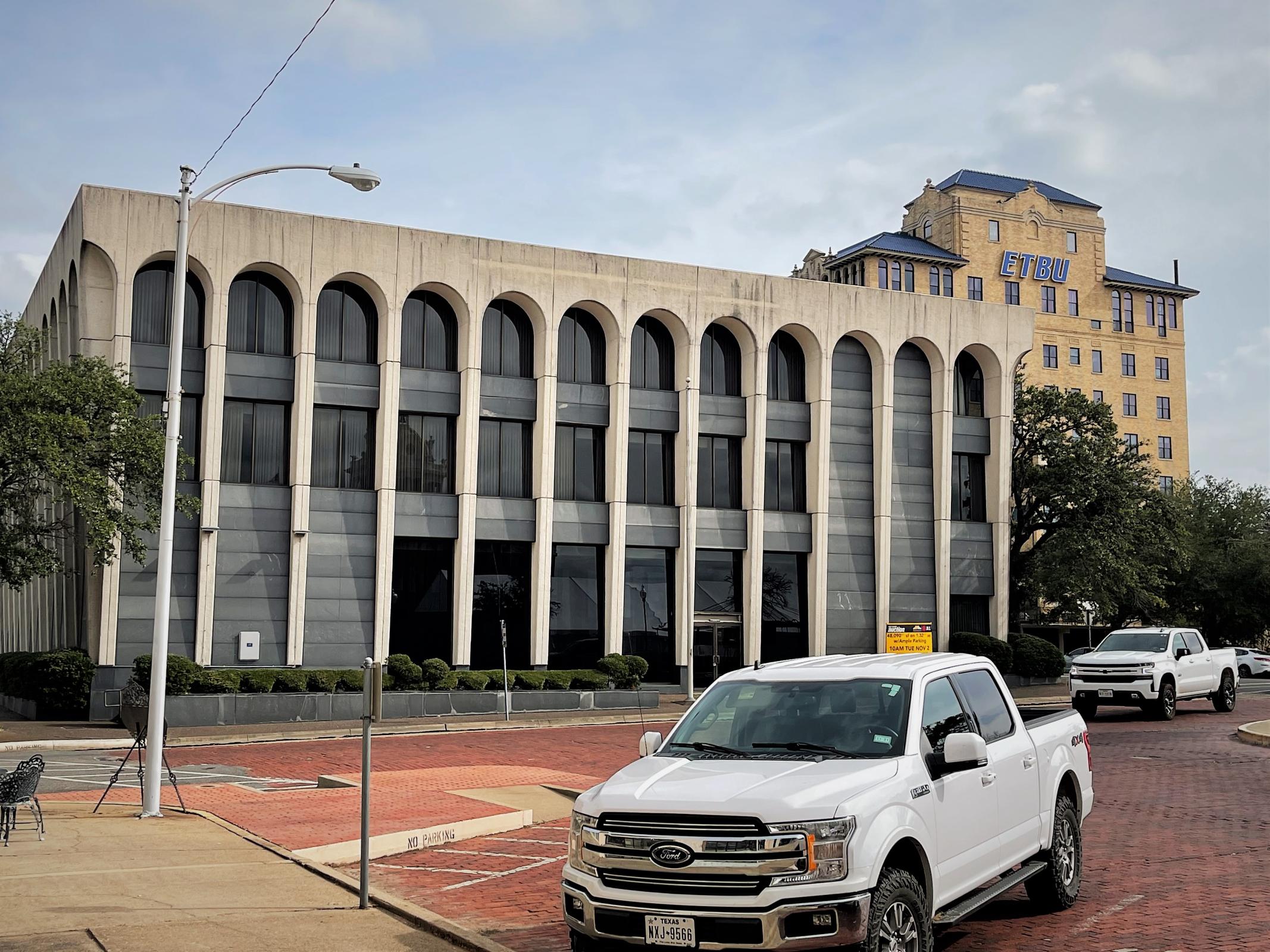 A new educational center is planned for the former Capital One bank building in downtown Marshall, thanks to a partnership between East Texas Baptist University and the Marshall Economic Development Corporation.
The Marshall City Council voted Wednesday night to spend $1 million in economic development funds for the project, dubbed Workforce Readiness, to create "a downtown business park campus promoting primary job skills training, workforce readiness, high school and college collaboration, undergraduate and graduate-level degrees, language and literacy training and services, mental health services, and community development, amongst other endeavors."

The downtown building was purchased at auction by ETBU earlier this month. Plans are to combine the ETBU School of Nursing, which is housed at the Marshall Grand, and the 49,000 square foot Capital One building at 100 N. Bolivar to create the Synergy Park educational center.
"East Texas Baptist University recognizes that the strength of a community depends on the people that live in it," ETBU President J. Blair Blackburn said. "The success of a community is contingent upon the unity of its people in sharing common values and advancing a vision for educational opportunity, career options, quality of life, and economic prosperity. This endeavor aligns with East Texas Baptist's commitment to expanding its educational offerings to include more programs that meet existing community needs in the East Texas region, supporting ETBU's core commitment of enhancing community. We are so grateful that the community and organizations such as Marshall EDC are partnering with us to help make a positive impact on our community and in the world."
MEDCO's $1 million pledge consists of an initial grant of $750,000 to cover site improvements and a $250,000 matching grant to stimulate private investment in the project.
"We are proud to partner with ETBU in this project," Chairman of Marshall EDC Jeremy Spears said. "ETBU's core values and dedication to community engagement and enhancement are tremendous assets to Marshall. This long-term educational investment brings new life to an old building in the center of Marshall. It also stimulates investment around the anchor. Our organization is optimistic that this project will generate more communication, collaboration, and cooperation between all levels of education in Marshall and across all industry sectors."

Officials said the Capital One building would undergo engineering design, mitigation and refurbishment. It will house undergraduate and graduate courses for the William B. Dean, M.D. Center for Language and Literacy Development, which offers community speech-language pathology and literacy development services.
ETBU is also planning a community clinical mental health counseling office, and MEDCO said it was "drawn to the concept of providing additional options to engage in adult and continuing education, soft skills training, and leadership development within the soon-to-be renovated building on North Bolivar."
The Capital One building's space, currently vacant, will be available for small businesses, entrepreneurs and nonprofits for lease at discounted rates. MEDCO said the project also has plans to collaborate with other colleges and Marshall ISD to develop a holistic community workforce development program spanning from early childhood to retirement.
Rush Harris, executive director of MEDCO, said Marshall has "a tremendous advantage in educational capacity. The worst thing we could do is not utilize it" and the area's primary and non-primary industries need skilled workers.
"We have great college and ISD partners dedicated to aligning skills demand with education," Harris said. "We will produce those skilled workers here. We will provide good local opportunities for our kids. One of the most significant challenges facing any community, particularly rural, non-suburban towns, is creating, retaining and recruiting skilled labor. Marshall EDC believes that fostering a healthy and inclusive educational environment, over time, strengthens a core community foundation and sets the stage for the long-term success of private industry, investment and the community itself."

Category: Education, Workforce Readiness